Dr. Pauling was born in 1901 in Portland, Oregon. He received a BS in chemical engineering from the Oregon Agricultural College (now Oregon State
University) in 1922 and a PhD in chemistry from the California Institute of
Technology in 1925. Dr. Pauling joined the faculty of California Institute
of Technology in 1925 where he started theoretical work on the nature of the
chemical bond. . He became the recipient of many fellowships and honors,
including the Nobel Prize in chemistry in 1954.

Dr. Pauling had 350 publications including work on the structure of crystals
by X-ray diffraction ; the structure of proteins; the structure of
antibodies and the nature of serological reactions; the structure and
properties of hemoglobin and related substances; abnormal hemoglobin
molecules in relation to the hereditary hemolytic anemias. He was a member
of numerous professional societies and was elected Rationalist of the Year
for 1960 and Humanist of the Year for 1961. His best-known book was The
Nature of the Chemical Bond. He also became deeply involved in campaigning
for peace during the Cold War, publishing No More War! (1958, 1959, 1962).
In 1963, he was awarded the Nobel Peace Prize for 1962.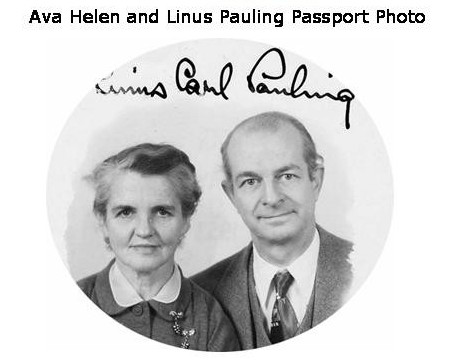 Dr. Pauling married Ava Helen Miller (English-Scottish and German descent) in 1923. They had four children, Linus (Carl) Jr. (1925), Peter Jeffress
(1931-2004), Linda Helen (1932) and Edward Crellin (1937-1997). Dr. Pauling
died on August 19, 1994. Dr. Pauling was globally admired for his
tremendous contributions to chemistry and for advocating peace. Dr. Pauling
shared the spotlight in this latter endeavor with Albert Einstein. His
endeavors in chemistry and peace continue to change the lives of people
throughout the world.